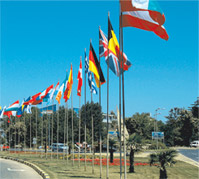 Corporate flags vertical
Raw materials used in flags manufacture:
Fabrics
– woven fabric, Lito weave 115 g/m2 (appropriate for indoor use). The fabric is woven of warp and weft filaments with uniform thickness, made of 100% polyester silk.
– knitted fabric 125 g/m2 (appropriate for outdoor use)
Sewing thread – of the same material as the fabric.
Paints – printing is done using ecological sublimation printing inks for polyester silk.